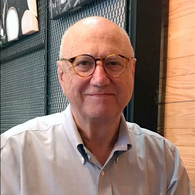 It is with great joy that we announce Dr. William (Bill) Chapman (HP '78) as the recipient of the 2020 Preservation Alumni Leadership Award. In its 6th year, the award is presented annually to an outstanding graduate of Columbia University's Historic Preservation Program who has contributed significantly to the preservation field, while devoting his or her time and talents to support the mission of Preservation Alumni. This award recognizes our community's leaders who are an essential part of keeping preservation relevant and innovative, as well as ensuring that the alumni network remains strong and accessible to current students. The award is typically presented at the annual PA Spring Party but, given the recent events surrounding the coronavirus, the event and award presentation has been postponed until a later date.
Dr. Chapman has made several outstanding contributions to the field of preservation, particularly through educating generations of students and the public about historic sites and monuments in Southeast Asia. Bill's research spans the fields of anthropology, archaeology and architectural history and he has been internationally recognized as a leading authority in historic preservation survey and documentation techniques and in the history of Caribbean and Pacific architecture. 
Highlights of Bill's long and distinguished career include serving as the Chair of the Department of American Studies and Director of the Graduate Program in Historic Preservation at the University of Hawai'i at Manoa where he currently serves as the Dean of Architecture. Bill is a four-time Fulbright Scholar and was the American Candidate at the International Center for the Study of Preservation and Restoration of Cultural Property in Rome (ICCROM). Bill has lectured extensively at universities throughout Thailand and Cambodia, has contributed to UNESCO projects, and is a member of the ICOMOS International Scientific Committee on the Theory and Philosophy of Conservation and Restoration and on Vernacular Architecture. Additionally, he has published extensively and won awards such as the Frank Haines Award for Lifetime Contributions to Historic Preservation from the Historic Hawaii Foundation. Last but certainly not least, Bill served as a board member for the Preservation Alumni Board from 1984-86. To read more about Bill's accomplishments, click here. 
As his nominator for this award so eloquently stated, through his leadership, scholarship, public outreach and activism for the preservation of sites and monuments, Bill Chapman demonstrates the impact one person can have toward enduring the preservation of the built past for the future. 
We would like to extend a special thank you to Dr. Susan Shay for the nomination. We look forward to celebrating this wonderful achievement together with Bill and the rest of the PA community at a later date. Please stay tuned for all future event updates from PA.