The Cleo and James Marston Fitch Thesis Grant was established in 2001 through an endowment by the estate of James Marston Fitch (1909-2000). It is given annually to a Columbia University Historic Preservation student to cover expenses incurred during research for their Master's thesis.
---
2021 Grant Recipient
Tucker Simmons
"Testing Protective Coatings and their Removal for Outdoor Bronze Statuary"
This research studied new coatings for their use on bronze statuary and evaluated removal using low-powered lasers. This testing was intended to add new coating materials to a conservator's repertoire, to improve the protection of outdoor bronze sculpture, and extend the time between maintenance cycles. This would, in turn, allow owners to better care for their statues and lower long-term maintenance costs.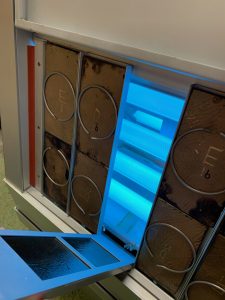 The most commonly used approach for coating outdoor bronze involves the use of wax and/or lacquer; both are considered to be easily reversible. Wax can be successfully removed with heat and water, while lacquers can be easily removed with standard solvents. Both wax and lacquer coatings' life cycles are relatively short, with wax-coated bronze usually needing annual or biennial maintenance and lacquer coatings lifespan in the field lasting roughly three to five years. This reversibility, long considered to be important in the conservation community, has been a challenge with respect to long-term coating durability for works exhibited outdoors. Three coatings were chosen for testing in this project. All three were urethane-based clearcoats that are either applied to lacquer or directly to the patinated bronze.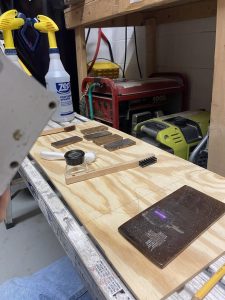 A patina was applied to cast bronze coupons prior to the coatings. These samples were then subjected to accelerated weathering testing in a QUV chamber. After QUV testing, three procedures–based on ASTM standards–were conducted to assess the durability of the artificially weathered coatings. After the ASTM tests were concluded, removal of the surviving coatings was carried out using a 100-watt, 1064nm Class four laser. From these tests, it was determined that the acrylic urethane coating, Ecothane, produced by G. J. Nikolas & Co., was able to be successfully removed by laser cleaning, and could lead to a possible replacement for the commonly used wax and lacquers, however further research is needed before a definitive conclusion can be reached.
Grant funding provided by Preservation Alumni assisted with cost of the materials purchased that were necessary to complete the research. These included the bronze coupons, coatings, patina chemical, and shipping expenses.
---
Past Fitch Grant Recipients
2020
Sarah Sargent, "Reclaiming the Fugitive Dust: Preserving and Interpreting America's Forgotten History of Nuclear Contamination"
2019
Shivali Gaikwad, "Living with Water: Adaptation Processes, Heritage Conservation and Conflicting Values"
2018
Tonia Sing Chi, "Building Reciprocity: A Grounded Theory of Participation in Native American Housing and the Perpetuation of Earthen Architectural Traditions"
2017
Cheng Liao, "Rethinking the Vernacular in China: Understanding the Dynamics of Social Transformation and the Evolution of Rural Architecture"
2016
Alberto Sanchez-Sanchez, "Behind the Ecce Homo: Rural Development Policy and the Effects of Depopulation on the Preservation of Spanish Heritage"
2015
Laura Groves, "Is there a Role for Preservation in a Favela?"
2014
Emily Barr, "Pressing Issues: In-Kind Terra Cotta Replacement in the 21st Century"
2012
Myun Song, "Wireless Sensing for Reinforced Concrete Structures and Concrete Repair"
2011
Lorena Pérez Leighton, "1930s American Steel Houses: Modern Artifact or Traditional Dwelling?"
2010
Susan Shay, "Cultural Landscape as Foil in Political Struggle"
2009
Christine Huh, "The Bush Terminal Model Lofts and Early Reinforced Concrete Buildings on Brooklyn's Waterfront; Their Significance as Industrial Heritage"
2004
Susie Jackson, "Natural Extractives as Wood Preservatives"
2003
Takushi Yoshida, "Machine Aesthetics in Architecture: Adaptive-reuse of Grain Elevators in Buffalo as an Industrial Landscape"
2002
Deborah Baldwin van Steen, "The Architecture of Calvin Pollard (1797-1850)"
2001
Michael Caratzas, "Cross-Bronx: Preserving a Significant Urban Expressway and Its Megastructure"